As businesses look to streamline their operations and increase productivity, material handling has become an area of focus. One solution that is gaining traction is the extendable belt conveyor. In this article, we'll explore how these innovative machines are changing the game in material handling.
What are Extendable Belt Conveyors?
Extendable belt conveyors from China are designed to expand and contract to fit a variety of spaces and applications. These machines typically consist of a conveyor belt that can extend and retract, as well as an adjustable conveyor frame. They are commonly used in warehouses, distribution centers, and shipping facilities, where they are used to move products quickly and efficiently.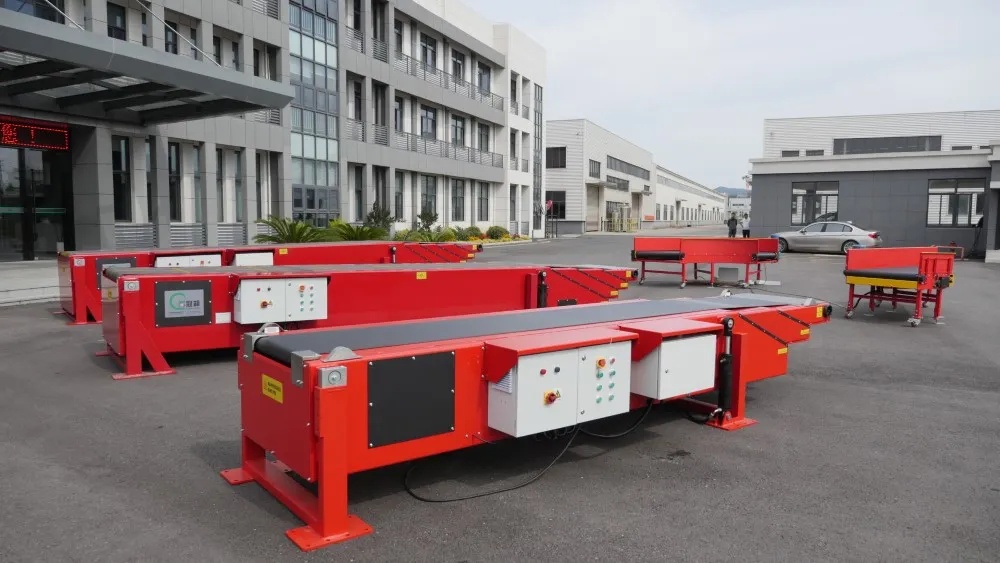 Benefits of Extendable Belt Conveyors
There are numerous benefits to using extendable belt conveyors from China in your material handling operation. Here are just a few:
Versatility: Extendable belt conveyors are highly versatile, making them an ideal solution for a wide range of applications. They can be used to move products of all shapes and sizes, and can be configured to fit almost any space.

Efficiency: These machines are designed to move products quickly and efficiently, reducing the time it takes to transport items from one location to another. This can help to increase productivity and reduce labor costs.

Safety: Extendable belt conveyors are equipped with numerous safety features, including emergency stop buttons and guards to prevent pinch points. This can help to prevent accidents and injuries in the workplace.

Cost-effective: Extendable belt conveyors are a cost-effective solution for material handling. They require minimal maintenance and can be used for a variety of applications, making them a smart investment for businesses of all sizes.

Space-saving: Because these machines can expand and contract to fit a variety of spaces, they can help to maximize floor space in your facility. This can be especially beneficial for businesses that are looking to optimize their operations in smaller spaces.
Applications of Extendable Belt Conveyors
Extendable belt conveyors here are commonly used in a variety of applications, including:
Loading and unloading trucks: These machines are commonly used to load and unload trucks, as they can expand to reach the back of the trailer and retract to fit into tight spaces.

Distribution centers: Extendable belt conveyors are used in distribution centers to move products from one location to another, often over long distances.

Shipping facilities: In shipping facilities, these machines are used to transport products from the warehouse to the loading dock, where they are loaded onto trucks for transport.

Manufacturing: Extendable belt conveyors can be used in manufacturing to move products from one stage of production to another.
Best Practices for Using Extendable Belt Conveyors
To get the most out of your extendable belt conveyor, it's important to follow some best practices. Here are a few tips:
Proper maintenance: Like any machine, extendable belt conveyors require regular maintenance to keep them running smoothly. This can include lubrication, cleaning, and inspection of all components.

Proper use: Make sure that all employees are properly trained on how to use the extendable belt conveyor, and that they understand all safety features and procedures.

Proper alignment: To ensure maximum efficiency, the conveyor belt should be properly aligned with the conveyor frame. This can help to prevent jams and other issues.

Proper loading: When loading products onto the conveyor, make sure that they are properly aligned and evenly distributed. This can help to prevent jams and ensure smooth operation.

Regular inspection: Regularly inspect the extendable belt conveyor for any signs of wear or damage. Address any issues promptly to prevent downtime and costly repairs.
In conclusion, extendable belt conveyors have become a game-changer in the world of material handling. These versatile and efficient machines offer a wide range of benefits, including increased productivity, reduced labor costs, and improved safety. By choosing the right extendable belt conveyor for your needs, you can streamline your operations, minimize downtime, and maximize your profits.
As we've seen, there are many factors to consider when selecting an extendable belt conveyor, from the type of material you'll be handling to the environment in which you'll be working. By taking the time to evaluate your needs and weighing the pros and cons of different models, you can make an informed decision that will pay off in the long run.
At the end of the day, an extendable belt conveyor is an investment in the future of your business. By making the right choice, you can set yourself up for success and stay ahead of the competition. So don't hesitate to explore the many options available and find the extendable belt conveyor that's right for you.
Related Products