Conveyors facilitate the merging or diversion of two conveyor lines in a smooth and efficient manner, angled belt conveyors are available in airless versions for low and medium speed or intermittent high speed operation, and air bar versions for heavy duty applications or high sustained speed.
An angled belt conveyor (combiner, V-belt conveyor) is used as part of a baggage conveying system to move baggage items onto and off conveyor sections. The lead-in and out-feed angles are set to 30° or 45°. Other angles are available upon request. The system is driven by head drives and small parallel strips.
Due to the vertically adjustable supports, the gate can be adapted to any type of building requirement or adjacent conveyor.
Angled belt conveyors are designed for merging or distribution operations. These two different types of inclined belt conveyors differ in the number of rollers and their positions. The consolidated device cannot later be converted to operate as a distributed device. Distributed angled belt conveyors generally have a longer minimum length than consolidated angled belt conveyors. Check factory specific conveyor widths for minimum length and merge/distribution configuration.
Features of angled belt conveyor
Belt Drive System: The conveyor belt is driven by its bottom contacting heavy duty lag drive rollers. Relatively low belt tension is required because the contact angle between the belt and the drive roller is as high as 210 degrees. Spring-loaded take-up rolls automatically maintain uniform belt tension even with changes in load and temperature. Contamination on the belt surface will not affect the operation of the belt because the drive rollers shrink the bottom of the belt.
Angle steel: The angled belt conveyor uses polished steel bars at the corner ends of the conveyor. Conveyors can be placed on angles 4 mm from adjacent conveyors. angled belt conveyors are available in 30 degree and 45 degree angles.
Paint: Epoxy powder coating in RAL colours is standard. Color matching is available.
Optional Air Rod System: The Air Rod System is optional for heavy duty applications and continuous high speed operation up to 240 m/min. Compressed air is released through a series of holes along the surface of the angle to cool the angle and create an air cushion for the belt. The air bar system also includes a pressure regulator and air lines.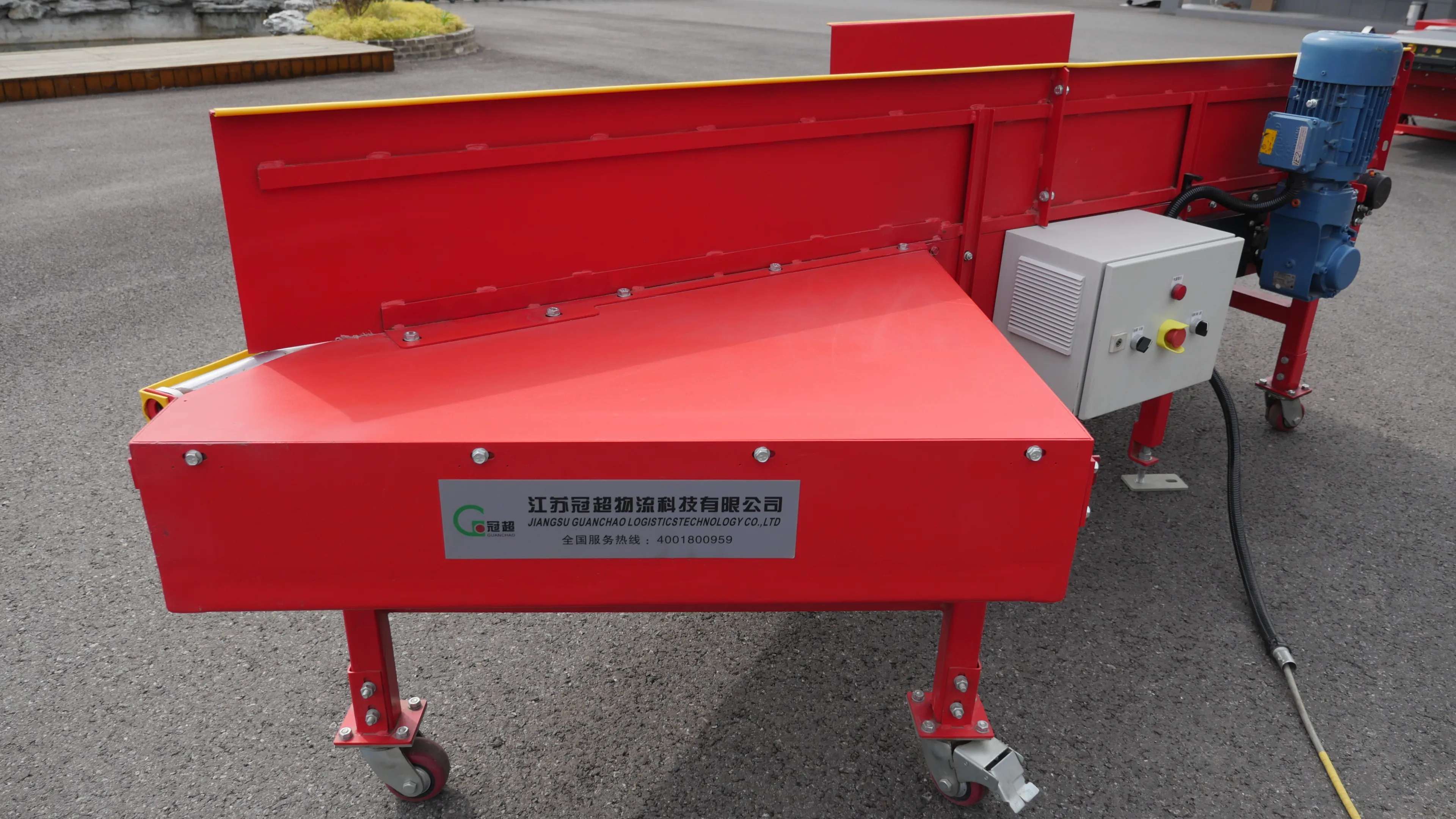 Superb processing and assembly technology
High speed capability;
Low noise operation;
Easy to maintain;
Low lifetime cost;
Practical design;
Wide conveying width available;
Low belt tension for long component life;
Positive drive belt system means endless roll slip;
Custom design for your specific application.
For merge or distribution operations
Low friction angle;
30 or 45 degree angle;
Spring tension system;
Quiet operation;
Smooth positive angle transfer of product;
Simple belt tracking system;
Low maintenance;
Heavy-duty steel construction;
Transfer small products.
Jiangsu Guanchao Logistics Technology is a professional logistics auxiliary equipment manufacturer, in addition to angled belt conveyors, our products also include telescopic belt conveyor.
The telescopic belt conveyor adds a telescopic mechanism to the ordinary belt conveyor, so that the belt conveyor can freely expand and contract in the length direction. Users can adjust the buttons according to their own requirements to control the length of the conveyor at any time. On models equipped with an automatic lift, the user can also control the height of the conveyor end at any time. Telescopic belt conveyors are mainly used in vehicle loading and unloading and material transmission systems with telescopic requirements.
Work efficiency
It greatly shortens the distance of manual transportation of materials back and forth, shortens loading and unloading time, reduces labor intensity, reduces damage to goods, reduces loading and unloading costs, and improves work efficiency. The telescopic belt conveyor can convey materials in two directions. The telescopic belt conveyor can be used in conjunction with other conveying equipment and material sorting systems to realize automatic production of materials in and out of warehouses or vehicle loading and unloading.
Belt retractors are widely used in various industries such as logistics transportation, electronics, papermaking, medicine, food, light industry, postal services, railways, distribution centers, storage and transportation, refrigeration, etc., which greatly reduce the labor intensity and improve the turnover efficiency of goods. And can carry out technical transformation and special customization of equipment according to customer requirements.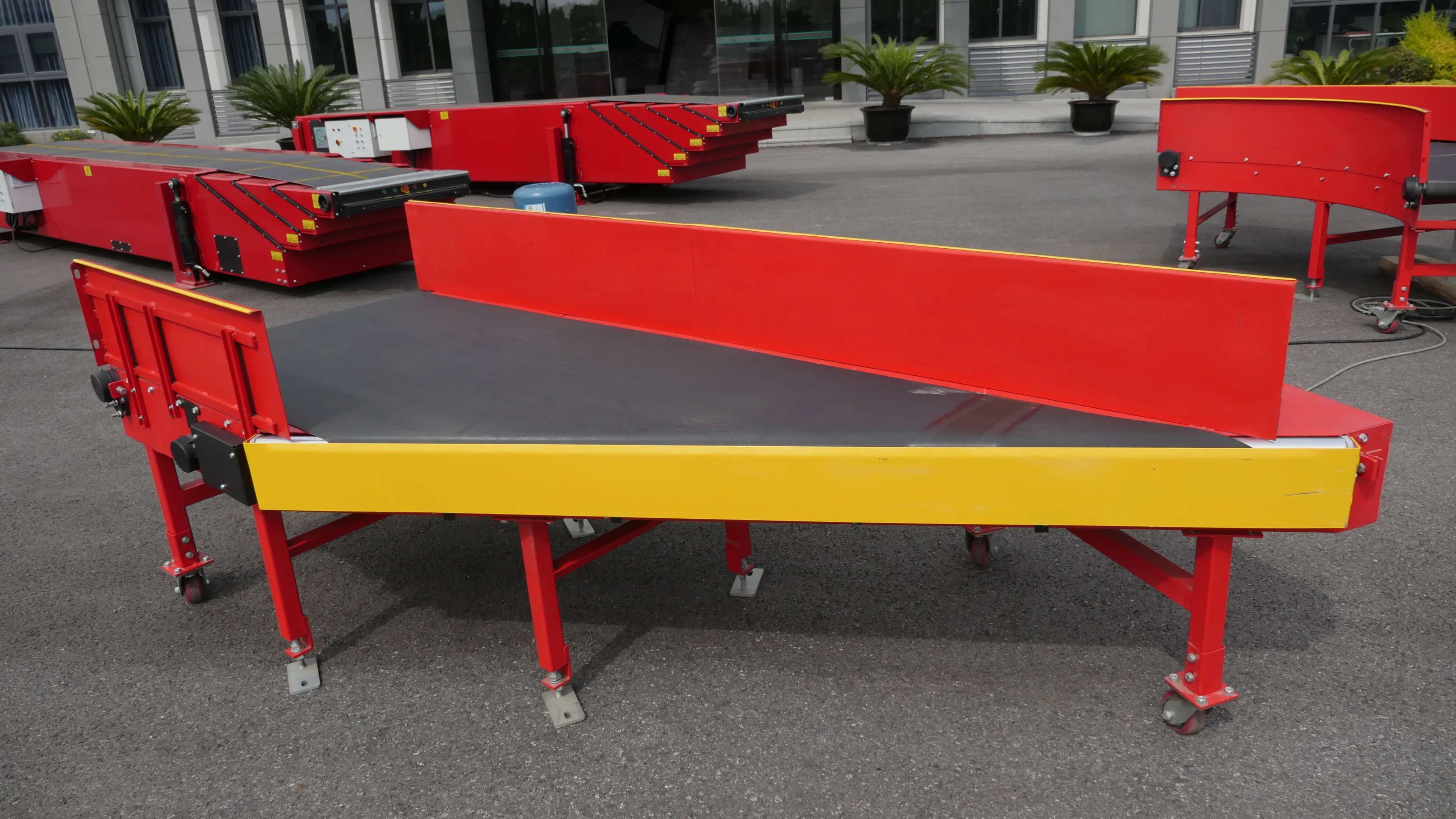 How to choose an angled belt conveyor manufacturer? A comparative analysis is made from the following aspects.
1. The strength of the manufacturer
No matter what kind of product is engaged in the production and sales, for the manufacturer, the strength is a very important measure. Because when customers are purchasing, the strength of the manufacturer is a very important reference factor, which directly affects the production of products in the later stage and the delivery on time.
Therefore, when purchasing conveyor equipment, it is also necessary to compare the strength of the manufacturers. Many times, customers have different requirements for the use of conveyors, which may require special customization, etc. At this time, it is more important to choose a manufacturer with strong R&D and production strength.
2. Market pricing
Different manufacturers have different specific market prices when selling angled belt conveyors. After all, the price will take into account the level of production costs. Therefore, this is also a key aspect when people understand the cost-effectiveness of the manufacturer's products.
In the case of similar equipment performance and various aspects, if the manufacturer's market price is more dominant, then the opportunity for customers to choose will be relatively larger.
3. Product quality
When some black-hearted merchants manufacture belt conveyors, they will reduce the steel standards applied to this application, reduce manufacturing costs, and will not support after-sales service. In this way, when selling products, the price is often much lower than that of manufacturers who use real materials.
When customers buy this kind of equipment, there will be serious hidden dangers in production safety, as well as equipment with short service life. Increase the actual purchase cost for customers from the source.
Therefore, through the analysis of the above three aspects, it is found that when purchasing angled belt conveyors, in order to ensure high cost performance, these are very important. Of course, the same is true when purchasing other products and equipment. Guanchao, as a manufacturer engaged in this industry for many years, our products have quality assurance, you can choose us.
Related Products